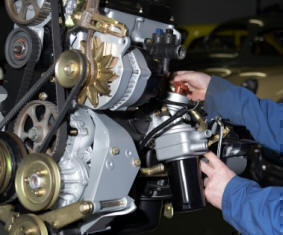 The most important thing to remember is that we keep you informed while your car is in our care.
Even under the best conditions, with a proper maintenance schedule and regular service to fluids and consumable items like brake pads, eventually something will go wrong and a part is going to break. In some cases parts can break due to continuous use, like an alternator, which is in use whenever the engine is running. In other cases parts break simply from age or climate conditions. A car battery will age must faster in the Florida heat, thus shortening its life. A common road hazard can cause parts to malfunction or break causing a needed repair. Whatever the case, repair is a necessary evil when owning a vehicle.
While performing both routine maintenance and necessary repairs, we may have to remove parts to get to the broken parts. If we discover a weak or broken part during our repair process, you will be advised of the issue and given the option to replace those parts during the same service visit. Our ability to combine repairs results in a savings to our customers by reducing labor costs and down-time.